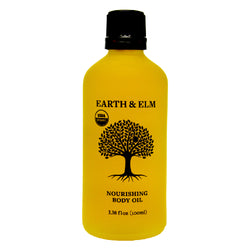 Earth & Elm - Body Oil

Vegan

Organic

No Artificial Flavor

Soy-Free

Gluten-Free

Recycle
Naturally Nourished Skin
Moisturize your face with pure organic essential and botanical oils. Feel alive again with a beautiful glowing and radiant appearance.
Monthly subscription benefits guarantee:
Free shipping within the continental US
90-day money back guarantee
WHY PEOPLE LOVE IT

Works for all skin types
A glowing and radiant appearance
Cold press oils to retain vital minerals and nutrients
Moisturizes, cleanses, and tones

Silky & Supple

USDA Organic

Glowing Complexion

Radiant Skin

Toxic-free
Botanical and Essential oils only
Body Oil Directions
Lightly and gently spread the product over the entire body from the neck down. Your skin may require more initially. Apply more often to dry or hard tissue areas. It is best to use right after a shower but can be used anytime.
Body Oil Ingredients
WHAT PEOPLE ARE SAYING
USDA Organic.
 We know that just because it says organic, doesn't always mean it's organic. By law, you can say you're organic if you're 95% organic. The remaining 5% is other ingredients/chemicals permitted by your state. That's not the case with us. Our Earth & Elm Nourishing Oil products are made from completely organic ingredients, and don't contain any non-organic ingredients or additives, and never any chemicals.


100% Botanical & Essential Oils.
 Only the highest quality oils are sourced from all over the world and they are not diluted or mixed with anything. Handcrafted in small quantities to ensure freshness.