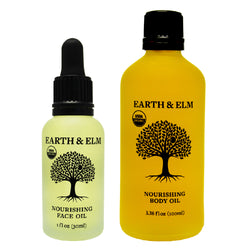 Earth & Elm - Set - Subscription

Vegan

Organic

No Artificial Flavor

Soy-Free

Gluten-Free

Recycle
These products start out strong being certified USDA organic. Couple that with our trade secret formulation method which gives you multifunctional products that work for all skin types – one step and you're done saving time and money. Get ready for your skin to feel alive again with a beautiful glowing, radiant appearance. 
Monthly subscription benefits guarantee:
Free shipping within the continental US
90-day money back guarantee
Why people love it:
Glowing & Radiant.

 Over 90% of these oils are cold pressed to retain vital minerals, vitamins and nutrients. Wake up to the appearance of glowing, radiant skin.

Silky & Supple.

 Moisturize your skin with all-natural oils right from nature.

Pores Appear Smaller

giving the appearance of smoother, more radiant skin.

Reduces Appearances of Blemishes,

fine lines, wrinkles, age spots, spider veins, and discoloration.

Acne.

Cleanses the pores of dirt, bacteria and impurities.

USDA Organic.

 We know that just because it says organic, doesn't always mean it's organic. By law, you can say you're organic if you're 95% organic. The remaining 5% is other ingredients/chemicals permitted by your state. That's not the case with us. Our Earth & Elm Nourishing Oil products are made from completely organic ingredients, and don't contain any non-organic ingredients or additives, and never any chemicals.

Toxic-Free.

 We believe in providing the cleanest products possible. Everything we use is found in nature. We don't use isolates or excessively processed compounds. Free of all chemicals, synthetics, parabens, phthalates, fillers and additives.
100% Botanical & Essential Oils.
 Only the highest quality oils sourced from all over the world and they are not diluted or mixed with anything. Handcrafted in small quantities to ensure freshness. 
All-In-One.
Moisturizers, cleanses, tones plus more. 
Fresh Citrus Aroma
For All Ages & Skin Types –
absorbs quickly into your skin – lightweight.
Convenient For Traveling
Bioelectric Mapping® Technology.
 We discovered a proprietary formulation method that shows us what your skin wants. We then designed our products to provide optimal nutrition to your skin to give the appearance of glowing, radiant skin.